Start Your First Blog: Free How-To Guide
Start blogging in 10-15 minutes! Last update: May 6 2020
Everybody seems to have a blog these days. But how do you do it? You  have to start somewhere…
When I started my first blog only a few years ago, I did my research and it took hours over hours to decide, which blogging platform or software to use, which hosting to use, deciding  on the domain name, etc.. I tried to google every little step and found some guides, but they were made for experts or did not cover the whole process. Or they were outdated and the guide did not match the interface of the blog software anymore… frustrating!
Today, I'm writing for many different very successful blogs. I now want to share my knowledge which I acquired over the years to help beginners (when I started out, I wished a guide like that existed back then) starting their first blog with an easy, always up-to-date blogging guide that covers every single step.
This guide covers all the necessary steps to get YOU started:
Choosing the topic of your blog – you already got one? Skip directly to step 2
The technical part: setting up the blog on your own domain name (like: myfashionblog.com – I'll explain later why you want your own domain)
The design part: Selecting a design for your blog that you really love and that suits your blog topic!
The marketing part: How to get visitors for your blog (and make some money with it)
If you get stuck along the way, you can leave a comment on this post or hit me up on Twitter (@startfirstblog). I will try to answer as soon as I can!
Still not convinced if you should blog at all? Give it a try and just read on.
Step 1: Blog topic
Blogging is writing. What can you write about? What should you write about? This is the most important question! You should enjoy writing your blog everyday.
Some ideas for you to help you brainstorming:
1. Why do you want to blog?
When you thought about starting a blog, you had a goal in mind. Whether it is to write about personal stuff like a diary, or to make money, or just to share your experience und what happens in your life, your hobbies or your work: This goal should be kept in mind when choosing the topic of your blog.
2. What are your passions?
When you are passionate about something, you know a lot about it and also want to share it with your friends. Share it with the world! By blogging, you have the whole internet and thus almost the whole world as your audience. If you really love what you are writing about, it is easy to keep it up and write about it almost every day.
3. Are you an expert in any field?
Do you have knowledge about a specific topic? Are you working in a special field? Worked a long time in a specific industry? I'm sure there are other people who would love to read about it.
4. Some currently popular blog types:
Fashion Blogs: Are you interested in fashionable shoes or clothes from top or indie designers? Many men write about fashion as well.
DIY Blogs: If you are a creative person, you can share your creations. Use guides with many photos, people really love that!
Food/Restaurants Blogs: You are really passionate about artisan food or just great restaurants? Great, lots of opportunities to write about and very interesting for other people as well.
Personal Blogs: Share your thoughts, experiences and tell your story. It's an opportunity to clear your mind and also help others (like I try with this blog)!
Do some brainstorming, but don't take too long – just GET STARTED, everything else will come along on the way!

Step 2: Blog setup – choose a blogging platform/software
This is a step that defines everything you do later, so it is very important. Luckily, I will help you with this decision to make it very easy for you.
Webpages are built using HTML, CSS, JavaScript… and served by servers in data centers… a lot of technical stuff you don't really care about. You just want to write! So in the last years, many different blogging platforms got popular, that let you concentrate on the important things: your writing.
Using e.g. WordPress to blog is like writing a letter in Word (or Pages if you are using a Mac).
Which blogging platform do you want?
You want to use the most popular platform: WordPress. More than 77 million blogs use it already! And it's growing even faster. Let's take a look at other platforms as well, but WordPress dominates it: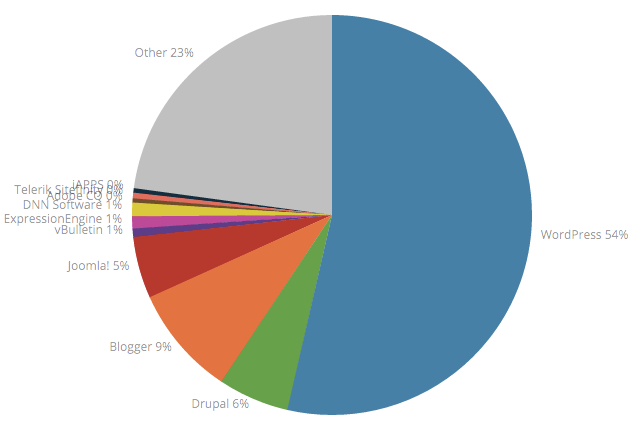 Source: http://trends.builtwith.com/cms
There are reasons for choosing WordPress:
It's very easy and beginner-oriented,
but also very powerful because there are so many themes and plugins to choose from to extend the functionality of your blog – with only a few clicks.
It doubles as a CMS (content management system), so you also can create some extra webpages with the same simple editor for a contact form or embed a Google Map so people can find you.
I recommend to always choose WordPress, and everything will be much easier later.
Why shouldn't I use a (free) service like Tumblr?
Free services like that are great for some, but if you are serious about blogging (especially if you think about making money with your blog), you should always self-host your blog. Think about it: If you don't pay for it, you are not the customer: you are the product.
With your self-hosted blog, you are not limited in what and how you blog: you can write about what you like, upload all your videos and images, and completely decide how your blog looks. Plus it will look way more professional. You can also extend your blog with features just as you like. And you will really own your blog.
If you just want to try blogging and don't care if you lose your old posts when switching to your self-hosted blog, you can try those free services of course.
How much does a self-hosted blog cost?
Less than you think! You just need the two following things:
Domain name (like myfashionblog.com) – about 12$ a year (I will show you how to get it for free)
Webhosting service (this makes your blog available in the internet) – about 4$-7$ a month
So for about 1-2 beers a month, you have a blog that you actually own on your own domain name. How cool is that?
What if I want to stop blogging or lose interest?
You can just cancel the service. Some services even have a 30-day-money-back policy – then you can try risk-free for a whole month if blogging is for you.
Where to get a domain and hosting service?
Just read further, I will show you now how to set everything up in just a couple of minutes.
Step 3: Set up domain name, hosting and blog
First thing you have to do is to actually think about a domain name. How to do that? The domain name should be:
Short and memorable – People have to enter it to get to your blog
Brandable and unique – You don't want to copy another brand (legal issues aside), but rather create your own. It should reflect the content of your blog and your personal style. Try incorporating your own name for example.
Not taken – I would recommend using .com, .net or .org domain extensions, but of course many websites already exist. You have to try around a bit to find a good one.
Now where should I get my domain and hosting?
There are really a lot of hosting companies with a whole load of different hosting plans and prices. Over the years, I tried a lot of them. Some were OK, some outright terrible, and a few were really great. I finally ended up somewhere simple yet powerful:
There are the advantages (highlights):
🙂 Free domain name: If you sign up with the link above, iPage gives you the domain name for free.
🙂 Easy setup: Wordpress is already pre-installed, so you can get started asap. There are also many pre-installed WordPress themes to choose from.
🙂 Really fast WordPress hosting: They have optimized everything to give you the best experience when using WordPress (like using super fast SSDs). Services I've tried were terribly slow sometimes, which can be very frustrating
🙂 Affordable/cheap: It's on the lower end of WordPress hosting prices, yet you get best value for your money.
🙂 24/7 support: If you have any problems, they are there for you around the clock.
If you choose a different hosting provider, take a look at bandwidth and disk space: make sure they offer unlimited space and bandwidth (like iPage), or you will run into problems later and perhaps pay a ton more money!
Read on, after you got your domain and hosting.
You have your domain and hosting, what now?
Great! Now you have two options:
WordPress is already pre-installed with iPage, just login into their admin panel.
Manual WordPress install (takes a bit longer and is more complicated) – link opens in new window as well
You installed WordPress, what now?
Now you have to login into your WordPress Dashboard. You can find it by adding /wp-admin to your website address, so if your new blog lives under http://myfashionblog.com you have to go to: http://myfashionblog.com/wp-admin
Just enter your username and password and login.
How to write your first blog post
After you logged into your WordPress Dashboard, just click on "New" on the top of the page and it will take you right to the editor where you can write your very first blog post. Click on "Publish" when your post is ready for the world 🙂
How to select a WordPress theme?
A WordPress "theme" decides how your site looks. There are tons of free themes available that look fantastic already. You can get to them (after logging in to your WordPress Dashboard, see above) by clicking on "Appearance", then "Themes" and you can instantly choose another design for your blog! Just click "Activate" below the theme you like (all your blogposts will stay, just look different, no worries). Make sure to choose a responsive theme so your blog will also look good on smartphones and tablets as well!
You can also get new themes by clicking on "Add new" and installing the ones you like with just a few clicks. If you want a professional theme, you can also buy them. A great resource for premium themes is Themeforest.
How to install a WordPress plugin?
A WordPress "plugin" extends the functionality of your blog, like a gallery for pictures or a contact form (like the one on this site). It's as simple as installing a theme and most of the plugins are free as well!
Log into WordPress Dashboard (see above)
Click on "Plugins" on the lower left, then "Add new"
You can just take a look at the most popular plugins or search to find the one you want!
Install the plugin by clicking on "Install now" – that's it!
If you need recommendations about plugins for certain functionalities, let me know by Twitter or comment on this post.
How to promote your brand new blog?
This is a huge topic of course, so I will write several posts about it. You will also want to learn more about making money with your blog. Stay tuned!
That's it! Try to blog daily to create and maintain a habit.
Did you enjoy the guide? Then please share it or link to it from your brandnew shiny blog. Let me know when you successfully created your very first blog by using my guide!
[ssba]
PS: Remember, if you have any difficulties, you can either leave a comment or hit me up on Twitter. I will try to answer all questions or even write a blog post about your question!